'Three generations
of physiotherapists'
Richmond Physiotherapy Clinic & Sports Injury Centre, located at Richmond House in Cheshire, has been established for over 50 years across three generations of family.
1

Initially opened in the early 50's by Physiotherapist Jack Griffiths, a former Manchester United football player. Before retiring in 1980 he was joined by his son, Keith Griffiths.

2

Over the years Keith gained great insight and experience in dealing with a wide range of injuries affecting sports people and the general public. Keith's son Jordan joined the practice and after working together for ten years, Jordan is now the lead physiotherapist at the clinic.

3

Jordan studied Physiotherapy at Liverpool University and is a Member of The Chartered Society of Physiotherapists he has a special interest in early intervention physiotherapy.
Our Clinic
The Clinic has five private treatment rooms equipped with the latest electrotherapy equipment. As well as two gymnasia, an aerobic exercise area and a further area with multi-gym, treadmill, steam room and showers. There is also a hydrotherapy and fitness pool.
The Clinic is staffed only by Chartered physiotherapists and all patients are assessed and treated by the same practitioner throughout their treatment programme.
Our location
We are conveniently located nearby Hyde centre, on local bus routes. There is easy access to local motorway network. Parking is adjacent to the clinic buildings and the clinic is all on the ground floor level.
The Clinic is normally open for appointments from 8.45am to 6.30pm weekdays. Alternative appointment times and domiciliary visits can be arranged by contacting the mobile telephone service outside normal clinic hours.
Treatable Conditions
The Clinic is extensively equipped to deal with the treatment and rehabilitation of physical injuries sustained at work, at home, on the sports field, through personal injuries, following surgery and after road traffic accidents.
Head and Neck

Headaches, muscle spasms, whiplash, work related disorders, slipped discs and acute sprains.
Shoulder

Arthritis, dislocation, ligament & tendon strains, frozen shoulder, fractures, muscle tears.
Upper Back

Postural related pain, muscle tears, intercostal strain, fractures, scoliosis, scapular pain.
Elbow & arm

Ligament strain, tennis elbow, fractures, golfers elbow, dislocation, RSI.
Lower Back

Muscle spasm, slipped disc, accident injuries, sciatica, lumbar spondylosis, acute sprain
Wrist & Hand

Arthritis, Tenosynovitis, carpal tunnel syndrome, repetitive strain, tendonitis, ligament sprains
Hip & Thigh

Ligament strain, muscle tear, sciatica, arthritis, replacement rehabilitation, groin strain.
Knees & Lower leg

Housemaid's knee, jogger's knee, shin splints, fractures, cruciate repair, menisectomy rehab.
Foot & Ankle

Plantar fasciitis, heel spurs, metatarsalgia, achilles tendonitis, interdigital neuritis, fractures.
Our Treatments
& services

Assessment Process
At the initial assessment a detailed history is taken of the injury or condition and the events leading up to it including any other relevant medical history.
You will then be examined to determine the cause of the injury and to identify what the nature of the injury is. These findings will be discussed with you and a treatment plan formatted.

Treatment Stage
This usually involves one of the methods below. You will commence a simple exercise programme that will be progressed depending on your improvement during the treatment period.
At the conclusion of your treatment programme you will be advised on what measures are necessary to maintain your current status and prevention of recurrence.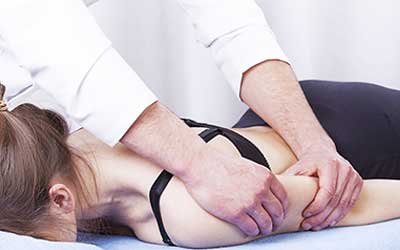 Massage Therapy
Massage therapy is used effectively on its own or in conjunction with a course of physiotherapy to relieve tension, pain and stiffness. It enhances the recovery process, encourages relaxation and improves the mobility of muscles.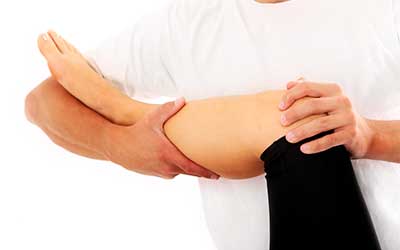 JOINT MOBILISATION
Joint mobilisation is a skilled passive movement of the articular surfaces. It is used to restore small, involuntary movements that encourage the joints to work at their optimum, increasing range of movement and helps with pain.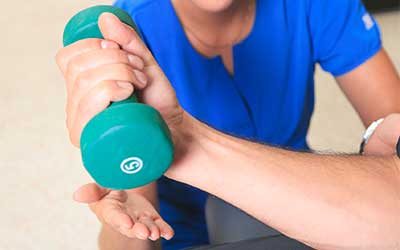 EXERCISE THERAPY
Exercise therapy is used by the physiotherapist both during treatment and as a self-management technique to increase recovery time. Exercise therapy helps to improve mobility, increase Strength and reduce pain.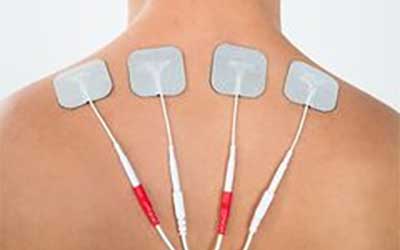 ELECTROTHERAPY
Electrotherapy is a treatment technique using electrical energy machines such as ultrasound, interferential and TENS. The machine depends on the patient's condition, helping to reduce pain and enhance the recovery process.